Nat. Dogshow "Spars' Nevsky Stars (St. Petersburg, Russia)
NEKMAR NO FEAR GO FAITER a.k.a. Ace shows what he is made of and goes all the way to BIS Puppy!!!!!!!!!! This win is even more valuable for us when we know the judge of the day was top specialist Mr. Rafael Garcia (De Villaodon, Spain)

13 & 14.10.2012
Double CACIB Odessa (Ukraine)
JCh. NEKMAR SECRET WEAPON a.k.a. Lavr has a great weekend again, winning 2 x JBOB, 2 x BOB, 2 x BOG3, JBIS4 for her proud owner Veronika Lyashenko. Lavr, pictured below, is 11 months old.

13.10.2012
Scottish Utility Breeds (Scotland)
NEKMAR RELIGHT THE FIRE FOR IVORY RIDGE a.k.a. Lara takes BOB!!!!!!!!!!!!!!! shown so well by her daddy Colin Kirk.
EXTREMELY PROUD OF THIS TEAM!!!!!!!!!!!

06.10.2012
UK Akita Association Championship Show (UK)
NEKMAR RELIGHT THE FIRE FOR IVORYRIDGE a.k.a. Lara makes us extremely proud, winning 1st LIMIT BITCH in lovely competition, consisting of the UK's finest. The judge ofthe day ws breed specialist Mr. Roy Mulligan. Lara was OWNER/Handled by her daddy Colin Kirk of Ivoryridge affix.
29.09.2012
CACIB Maastricht (Netherlands)
NEKMAR NOT AFRAID a.k.a. Simba takes Best Puppy of Breed first time out for his owners under respected Mr. H. Ogden.



29 & 30.09.2012
AKITA GOLD CUP Specialties (Bretinau, Germany)
At these prestigious specialties held in Germany, NEKMAR NO FEAR GO FAITER a.k.a. ACE steps onto the European Akita scene, winning BOB puppy both days in big and strong competition. The first day was judged by specialist Mr Satoshi Bessho (Japan), second day judged by breeder judge Mr. John Aareskjold Tjotta. Ace is owned by ALEXEY VINOGRADOV and handled by Kristina Antonova.

02.09.2012
CACIB Dnepropetrovsk (Ukraine)
JCh. NEKMAR SECRET WEAPON a.k.a. Lavr continues on his way and takes the double in the breed, with both JBOB and BOB under breed specialist Mr. HIROSHI KAMISATO (Japan). Later on, Lavr tops the day going adult BOG3 under Mrs. Agnes Kertesganami (Israel). At 10 months old, Lavr currently stands at an amazing record of 7 x JCAC, 6 x JBOB, 6 x BOB, 1 x BOG, 1 x BOG3, 1 x JBIS2.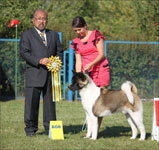 01.09.2012
CAC Pula (Croatia)
LUKA & ARASHI DO THE DOUBLE 4TH TIME IN A ROW!!!!!!
On this rainy day in beautiful Pula, the boys did great again. MultiBIS NEKMAR EXPRESS YOURSELF a.k.a. Luka went BOB, BOG and his younger teammate JCH NEKMAR SECOND TO NONE a.k.a. Arashi goes a step better, again winning JBOB and Res JUNIOR BEST IN SHOW.
Breed and group were judged by Mrs. Maja Korosec (Slovenia) and JBIS was judged by Mrs. ANUKA PALOHEIMO (Finland)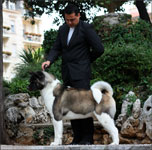 26.08.2012
CACIB Mykolaiv (Ukraine)
NEKMAR SECRET WEAPON a.k.a. LAVR does it again, winning BIG STYLE with both Junor BOB & BOB in breed, and later in the BIS programme, he goes Res. JUNIOR BEST IN SHOPW and Adult BOG. Hard to believe this superstar youngster is still a wee 10 month old baby!

25.08.2012
CAC KOPRIVNICA
!!!!!!!!!!!!DOUBLE AGAIN!!!!!!!!!!!!!
MultiBIS NEKMAR EXPRESS YOURSELF a.k.a. Luka, BREEDER HANDLED, takes BOB, BOG, RBIS!!!!!!!!!!!!
Young Arashi - NEKMAR SECOND TO NONE - goes from strength to strength and takes junior BOB and JBIS3!!!!!!!!! That finishes his Junor Croatian Champion title in style!
REspected judges of the day were Mr. Franjo Kovacev, Mr. Tino Pehar, and Mr. Tomo Pavic.

18.08.2012
CACIB Gradisca D'Isonzo (Italy)
!!!!!!!!!!!!!!!!!!!NEW INTERNATIONAL CHAMPION!!!!!!!!!!!!!!!!!!!!
Multi BIS Ch NEKMAR EVITA PERON a.k.a. Naomi takes CACIB, BOS to complete her International Champion title at 2,5 years of age. Naomi was always BREEDER/OWNER HANDLED.

12.08.2011
CAC KNIN (Croatia)
BROTHERS DO IT AGAIN!!!!!!!!!!!!!!!!
MultiBIS NEKMAR EXPRESS YOURSELF a.k.a. Luka BOB, BOG, BIS3!!!!!!!!!
NEKMAR SECOND TO NONE a.k.a. Arashi takes his second Junior BOB.
We would like to thank this weekend's panel of judges for their high opinions on our boys: Mr. Tino Pehar, Mrs. Jasna Matejcic, Mrs. Olga Kupryanova, Mr Stefan Sinko.
11.08.2011
CAC SINJ (Croatia)
Multi. BIS NEKMAR EXPRESS YOURSELF a.k.a. Luka makes his debut in Croatian rings while visiting Croatia, and what a star he turns out to be, going BOB, BOG, rBIS!!!!!!!!!!!!!!!!!!
At the same show, Luka's half-brother NEKMAR SECOND TO NONE a.k.a. Arashi keeps his end up, winning Junior BOB at 9 months of age.

27-30.07.2012
World Famous
FOUR SPLIT SUMMER SHOWS
At the world famous Split Summer Shows, another Nekmar baby makes a name for himself, and this one makes it with a BANG!!!!!!!!!!!!!!!!!!!!!!!!!!!
NEKMAR SECRET WEAPON a.k.a. LAVR was exactly 9 months and 2 days old on the first day of the Split shows, but that didnt stop him from taking all four Junior BOBs offered. It didn't stop him from taking all four Adult BOBs over male and female champions either!
LAVR makes these wins under a truly great International panel of judges as follows: Mr. HIROSHI KAMISATO (Japan) - first day, Mr. HANS VAN DEN BERG (Netherlands) - second day, Mrs. CATHY DELMAR (Ireland) - third day, and Mr. RON MENAKER (USA) - last day.
Lavr is owned and loved by VERONIKA LYASHENKO.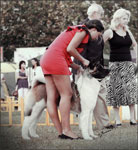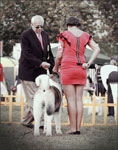 10.06.2012
CACIB Umag International (Croatia)
On the second day, we did even better with Multi BISS/BIS Ch Int Ch AMADAR TRUE COLOURS AT REDWITCH a.k.a. Mitch going CAC, CACIB, BOB, RBOG and NEKMAR SON OF A GUN a.k.a. Tiny BOB and BISpuppy!!!!!!!!!!!!!!!!!!!! BREEDER/OWNER HANDLED. Breed and Group judge resepected Mr. BLAZ KAVCIC (Slovenia), puppy BIS judge respected Mr. JOSE JOMEM DE MELHO (Portugal).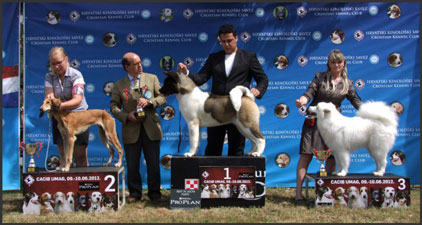 09.06.2012
CACIB Umag International (Croatia)